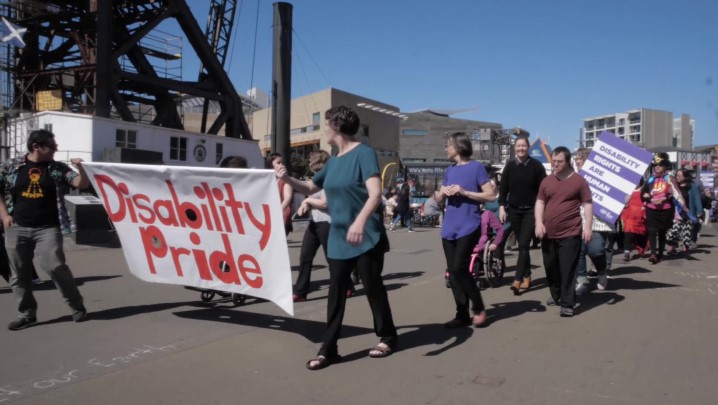 Disability Pride Week 2020
Monday 14 September - Sunday 20 September 2020
When: August 2020 till the general elections and referendums - 19 Sept 2020
Where: across Aotearoa New Zealand
Theme: Setting the Agenda
We are setting the agenda, showcasing our creativity and feeling proud of ourselves and our communities.
Why Disability Pride Week
It's a pivotal year for Aotearoa and the world. We as disabled people have shared our resourcefulness and resilience during the covid-19 pandemic. Practices like remote working and creating mutual care networks sprung up amazingly fast. But now, while the Government decides how the country will build back better after Covid, we have to keep the spotlight on our disabled voices.
With a General Election and two key referendums in September, let's use our disability pride to make our perspectives and questions as disabled voters visible.
Hashtags: #DisabilityPride, #DisabilityPrideNZ, #DisabledandProud, #CripTheVote
We know election season is an extremely busy time. So we suggest integrating chances to showcase disabled people's perspectives and creativity into your workdays, social media posts, art, campaigns, dinner conversations and more.
Conversation starters
What would Aotearoa look like if disability was celebrated?
What would Aotearoa look like if you always felt seen and accepted as a disabled person?
What disability-related question do you have for MPs in the lead-up to the General Election?
For allies
You have an important role to play by amplifying disability perspectives. When our views are too often ignored or passed over, sharing our content, asking us for our ideas and reading disabled writers goes a long way towards spreading and normalising the idea of listening to our voices.
Hashtags
We're stronger together so try and remember to use hashtags in your social media posts. #DisabilityPride, #DisabilityPrideNZ, #DisabledandProud, #CripTheVote
Our Vision
Our vision is for Aotearoa New Zealand to be a place where we as disabled people feel proud of ourselves and our country.
Disability Pride Week is a national event that celebrates our common humanity. Here, disabled people share our stories and creativity through a range of activities to show that we are also citizens. Disabled people make up 25 percent (1.1 million) of the New Zealand population.
"We are New Zealand's largest minority group and its time to claim our place in society – one where we are included, visible and valued."- Disability Pride Week co-founder Nick Ruane with Rachel Noble.
LATEST NEWS AND VIEWS